See on Scoop.it – Writing and reading fiction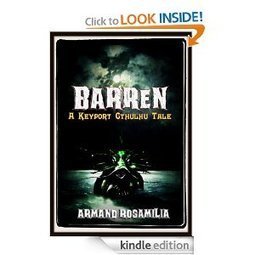 Back in October, when my sales weren't really strong, I simply figured everyone was waiting until mid-November to get their early Holiday shopping in. Once December hit, I'd be off to t…
Robert Chazz Chute's insight:
Today's disturbing observation comes from the King of Disturbing, zombie master Armand Rosamilia. Learn more and soak up Armand's brutal honesty at the Scoopit! link below.
We can look at falling sales as a challenge to write more. (I do.) We can try to  find new and creative ways to market. I agree, though I'm not sure what that manna from heaven might look and taste like, if it arrives. We can write better books, though sadly, it's actually debatable how important that really is. (See Fifty Shades of Gray…actually don't! Buy a book from an author who could actually use the dough to eat.)
A while back, a fellow author confessed she saw no need to buy any books, ever again. Why buy when so much is free? I confess I've ridden the KDP Select free train and contributed to that problem. I can't say Amazon's  destination is riches with those magic five days of free. Last I checked, with Kobo, it's free as much as you want (!). It shakes the foundations of the market when an author says she sees no reason to purchase a book.
To that, I say we must develop our voices so our reader base appreciates our unique, special snowflakeness. I don't think authors are interchangeable, but with infinite choice, prices do fall toward zero. (I'm still betting on my unique voice and sticking with my prediction that all ebook prices are about to rise. Mine will, anyway. We're going to be cheaper than big house ebooks, but compete on the new algorithm's terms.)
It's not that the Mayans were right and it's not about a false sense of entitlement. It's that if book sales are really bad across the board, we don't care much if it's the end of the world. Am I worried about the end of the world? No. That solves the VISA problem. Am I worried about the state of publishing? I'm writing this under my desk in the fetal position.
(Armand's not alone scary observations about book sales. Author Derek Haines wrote Self-published Authors Get Ready, You're being Dumped on his blog, The Vandal. Find that at this link: http://bit.ly/WQdWIu)
Mull both links and riddle me this, Batman: Are you hopeful that post-Christmas morning (after all those new tablets and e-readers are unwrapped) authors might then feel a sales deluge?
Sucking my thumb… ~ Chazz
See on armandrosamilia.com
Related articles
Filed under: publishing, Amazon, Amazon Kindle, competition, Kobo, prices, publishing, Robert Chazz Chute, self-publishing, the state of the market, writing