See on Scoop.it – Writing and reading fiction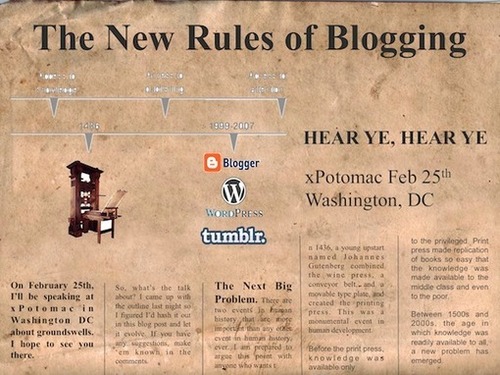 There are two events in human history that are more important than any other event in human history, ever. I am prepared to argue this point with anyone who wants to challenge me on it. The two events (the solutions) are depicted in this graphic.
Robert Chazz Chute's insight:
This preamble is going to look unrelated to the Scoopit! link to the New Rules of Blogging. It's not. Bear with me as I bare myself.
The self-publishing blogoverse will probably be all atwitter about Guy Kawasaki's list of 10 mistakes we make as self-publishers (http://bit.ly/WDSbPp). Most of his advice is peachy. Some of it I disagree with, like: Idolizing Word without qualification (until you get to the comments on the DBW link), pumping up paperback versions without reservation and a sneaking suspicion he thinks we all want a trad publisher. Picky of me, perhaps. The bigger problem with the piece is he's all the way up there with a howitzer, all I have is a starter pistol and he's saying, "You really should use your cannon." Um…must be in my other wallet…the hoped-for-future wallet.
I think Kawasaki's article illustrates the chasm between someone coming in from trad publishing with money to spend and the majority of micro-publishers. I appreciate his book (APE as ini Author, Publisher, Entrepreneur) and think self-publishers should read it. There's lots of good stuff in it.
However, my major reservation about the DBW piece ($10,000 to $15,000 on PR?!) is that it sounds very old school and his budget is beyond me and most authors I know, self-published or not. This is actually an odd gap since he acknowledges that you shouldn't do this for the money and the chances of having a $15,000 PR budget are grim unless your day job subsidizes your micro-publishing efforts. I get the feeling that, from where he's standing, he can't understand my problems, my pathetic lack of world domination or my financial bind.
Confession: Last week I did a rare thing and bought a coffee. Because I was searching through small change, the counter guy at Canadian Bagel offered to knock 50 cents off the price to save my pride. Thanks CB guy! However, I dug up the pennies. I left feeling thankful for the kind gesture, sad and somewhat homeless. I really should get these jeans hemmed and make sure I look less scruffy, I guess.
Let me tell you something that will help. I wrote it in Crack the Indie Author Code and Write Your Book: Aspire to Inspire. It's advice I published for the rest of us, armed only with starter pistols, grim determination and unhemmed pants. I'm telling you here for free. It's key and it's not in the DBW article: Write more books! Write more books! Write more books! I put eight books up last year. (No, I didn't write them all last year and I obviously can't claim Mr. Kawasaki's long track record of success, but I do have a decent number of books for sale, so it's the start of an ambitious pace.)
My point is, you and I, the micro-publishers armed with cheap guerilla marketing tactics, are closer to each other than we are to the expensive suggestion of a costly PR campaign for each book. (Imagine having the fat stack to pimp eight books in one year at ten to fifteen grand a pop! Ooh, shivers!) I don't begrudge Mr. Kawasaki his promotional opportunities. We all fantasize about how much we could do to promote our books if we just had lots of cash to do it up pretty. We don't have that moolah, so we'll have to improvise on some of his otherwise excellent points. To his credit, he does say we each must choose our path. I agree and have said the same many times. It just feels like he doesn't realize people with starter pistols have fewer paths from which to choose and we are the vast majority of self-publishing's aspirants. One day some of us will have howitzers and we can take more of his valuable advice.
In the spirit of giving you something that's perhaps more hopeful to authors reading this blog, I'm sharing this Scoopit! link about the New Rules of Blogging. It's about looking in new places for opportunity and gaining influence to get your signal through the noise. (The video is NSFW). Learn and enjoy at the link!
~ Chazz
See on diyblogger.net
Filed under: publishing