See on Scoop.it – Writing and reading fiction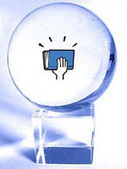 Robert Chazz Chute's insight:
I made a lot of predictions at the end of Write Your Book: Aspire to Inspire, so I'm particularly interested in reading what Mark Coker sees in his crystal ball. Wow. It's exhilarating and depressing and more of the same. Our biggest worry is the glut of free and breaking through to discoverability. Learn from Mr. Coker at the Scoopit! link.
In the comments section of a former post (2012 Indie authors' peak? below), a reader asked how crazy you have to be to go indie. He thought the only reason to self-publish is to get successful enough that traditional publishers might pick you up. He asked how successful you have to be to get attention from traditional agents and publishers. I'm going to repost my reply to that author here because it seems to fit:
On a scale of one to ten, how crazy? You'd have to be lotto odds blotto insane, but this is a compulsion rather than a calculation.

To your second question, there is no single measure. One author, years ago, sold 75,000 books on his own before a traditional publisher came calling. (To put that in perspective, sell 5,000 books the traditional way in Canada and you're in bestseller territory.) Scott Sigler had 100,000 fans before publishers would pay attention while John Locke sold a million books before trad publishing picked him up. The rule of thumb is that trad publishers will show up at just about the time you begin to wonder why on earth you'd need them.
Since we may never be picked up by traditional publishers (and publishing can be so much heartbreaking work), would you write and publish even if no trad publisher ever asks you to the dance? By cold calculations, we'd be far more financially secure driving a cab or baking bread or…just about anything else. It has to be a labor of love, of love of writing and reading and self and others.
~ Chazz
See on blog.smashwords.com
Filed under: publishing