See on Scoop.it – Writing and reading fiction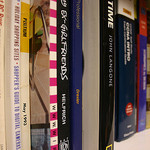 A series of blog posts dispelling the most common self-publishing myths, this week that self-publishined authors don't sell any books.
This is a thoughtful and encouraging post by Ryan Casey. See what you think at the link below.
As far as putting ourselves out there goes, I have noticed many people assume that traditionally published authors have all their marketing taken care of for them. In my experience working in traditional publishing, that wasn't even true a long time ago. I worked for a bunch of publishers and the publicity departments generally weren't that great at what they did. What they did well, anyone could do. Proactive authors did and do better.
By the way, I approached a bookstore about stocking my books and doing a book event. They couldn't have been more gracious and it wasn't at all intimidating. It was a friendly chat. Though bookstores aren't my main focus, it's nice to see that what many consider an obstacle to the self-published isn't necessarily a big hairy deal. ~ Chazz
See on ryancaseybooks.com
Filed under: publishing